This article will walk you through creating a copy of a client's tax return within ProConnect Tax Online. Copies can be created two ways: from the Tax Returns list, or from within a client's return.
From the Tax Returns list:
Identify the return you would like to copy.
In the Actions column, click the down-arrow beside View Return.
Select Copy Return.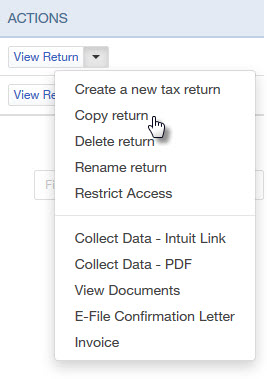 From inside a tax return:
Navigate to the Profile tab.
Click the blue Return Actions button at the top right of your screen.
Select Copy Return.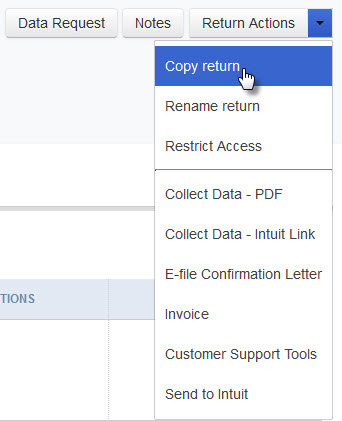 Helpful tip: By default, the copied return will be named "Client Name - COPY". You can use the Return Actions button to rename the return as needed.
Related Topics
Amending an individual return (1040X) originally prepared in ProConnect Tax Online
How do I email a PDF copy of the tax return?
How to amend a partnership return (Form 1065) in ProConnect Tax Online